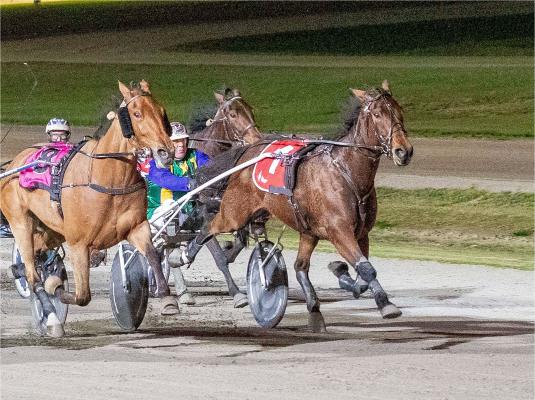 Tim O'Connor
Champion New Zealand horseman Richard Brosnan has captured some of harness racing's biggest prizes, but few moments in his long and successful career would top the one that presented in Bendigo, where Saturday night's racing was moved from Melton.
Brosnan and son Emmett landed their first Group 1 as a training combination on Saturday night when Maori Law poked his nose out to win a thrilling Opus Group Australasian Trotting Championship over the marathon 2650m trip.
It was a breakthrough elite level triumph for both Emmett and the horse, who has overcome setbacks in recent times to finally secure victory on the biggest stage.
"It's massive," the Bannockburn-based Emmett said.
"It means so much to me. I'm so stoked I can win a Group 1 with my old man as well.
"Growing up and watching him do it and (now) I get a chance to do it, it just means everything."
Richard Brosnan, 73, who has won races such as the Inter Dominion Trotting Championship and New Zealand Cup as a trainer-driver, moved to Australia and took out a licence with his son last year.
Emmett was quick to show his appreciation of Maori Law's owner Fred Crews, who gave him responsibility of the horse after he left former trainer Bill Morgan last year.
"I just have to thank Fred so much because I know that there was a long list ahead of me and he gave me an opportunity to do this. So to get a bit of reward back, it's awesome," he said.
"When he feels good, he's just a really sweet trotter and he seems to just do it effortlessly. Ants (Anthony Butt) drove him exactly how he needs to be driven. He had a couple of options there and he just stuck to the line well."
As mentioned, Butt drove Maori Law to perfection. He got the horse away from the tapes, took the lead away from Robbie Royale and then relinquished it when Cover Of Darkness came with an early rush.
He trailed that rival to the lane and then sprinted home to grab Im Ready Jet and Majestuoso – who started from the 10m handicap in his bid for back-to-back wins in the race – in a three-way photo.
Butt won the Australasian Trotting Championship with the great Lyell Creek in both 2000 and 2001.
"They are definitely the peak of our careers, the Group 1s. We all try to win them, get drives in them and I've been lucky enough to have a great career and win a lot of them," Butt said.
Maori Law, who was having just his seventh start for team Brosnan, has now won 17 races for over $200,000 in prizemoney.
There were tears of joy in an emotional post-race interview as husband and wife Greg Sugars and Jess Tubbs celebrated Triple Eight's VHRC Caduceus Classic success.
The usually cool, calm and collected Sugars raised his whip in triumph as the former New Zealander powered to victory in the $100,000 Group 1, and then choked up as he articulated just how special the win was for his family.
"We were lucky enough to win our first Group 1 with Momentslikethese earlier this year, which was sort of a bittersweet moment for us because we couldn't actually be there (in Queensland) to finish the job off for ourselves," he said.
"Full credit to Jess really. I've only driven this horse this preparation pretty much at the races, she's done all the work at home and I'm so proud of her."
Sugars positioned Triple Eight midfield in the running line through much of the 1650m trip and then brought him to the centre of the track in the home straight, where he finished too strong for runner-up and favourite General Dodge, who speared to the lead from barrier five and handed up to Max Delight. Out To Play flashed late for third, with the mile rate clocked at a slick 1:51:7.
"That's just amazing, I'm so proud of him," Tubbs, from Myrniong, said.
"I'm rapt that Greg drove him so well as always and just so thrilled for the owners. I'm shattered they can't be here – they'll be hopefully jumping up and down having some drinks at home."
Known affectionately as the 'Pacing Priest' for his work done within the harness racing industry, Father Brian Glasheen holds a share in the gelding along with some close friends, who purchased him from New Zealand and sent him to Tubbs' stable shortly before February's Hunter Cup.
The six-year-old's maiden Group 1 success takes his career record to 16 wins from 67 starts, his prizemoney up over $400,000 and leaves him as one of the key fancies for the Pryde's Easifeed Victoria Cup on October 9.
Better Eclipse is emerging as an exciting Lather Up Victoria Derby prospect after a classy victory against older rivals in the VHRC Thanks Rich River Golf Pace (1650m).
The Jess Tubbs-trained three-year-old backed-up his narrow second placing to Bondi Lockdown two weeks ago to taste success.
Tubbs' husband Greg Sugars was at the controls on Saturday night, and while he wasn't declaring the son of Betterthancheddar as a winning hope in the feature on October 9, felt he was well and truly deserving of his chance to chase Group 1 glory.
"They are only three-year-old once obviously and the derbies only come around once in a lifetime for them," he said.
Sugars said the horse – now a winner of four races from 10 starts – was a stable favourite.
"He was pretty lit-up actually in the parade ring and going out on the track tonight, so I think he is sort of coming of age and really developing into a nice horse," he said.
"He's a good-looking animal and he certainly is feeling very well in himself."
An hour after Better Eclipse's triumph, one of his main dangers to the Derby prize put together another brilliant performance in Bendigo.
Bondi Lockdown scored an all-the-way win in the VHRC Thanks Benstud 3yo Pace (2150m) for trainer-driver Aaron Dunn, who found the lead and was able to rip home in final quarters of 27.0 and 27.5 for a mile rate of 1:57.1.
He defeated a brave Major Moth, who boxed on well and closed the gap to less than 5m in running second first-up from a long spell.
The Lather Up Victoria Derby heats are scheduled for October 2, with the $200,000 final a week later on October 9.