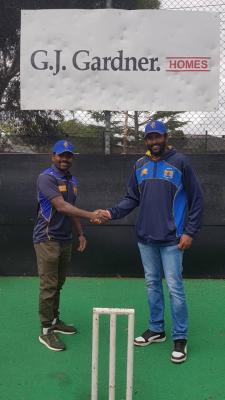 Tara Murray
Darley has wasted no time in adding to its ranks for next season, with the signing of Gisborne and District Cricket Association's reigning best and fairest winner.
The Lions, who have claimed back-to-back Ballarat Cricket Association premierships, last week announced the signing of gun all-rounder Dilan Chandima.
Chandima starred for Sunbury United in the GDCA's McIntyre Cup this season, hitting five centuries, including an 197 not out.
His performances saw him claim the Sullivan Medal as the competition's best player, with United making the grand final.
Lions coach Brian Wheelahan said they were delighted to have signed Chandima, who can also bowl leg spin.
"He is obviously a class player," he said.
"He is good mates with Hassi [Lions premiership player Hasitha Wickramsinghe] and they played a lot of school cricket together in Sri Lanka and they had been talking.
"He wanted to play on turf cricket and Sunbury United played on hard wicket. He wanted to test himself."
Wheelahan said that the arrival of Chandima would offset the loss of Anthony Taylor, who is moving to Queensland.
Like Taylor, Chandima is an opening batsman.
Taylor spent two seasons with the Lions and leaves a two-time premiership player.
Wheelahan said he had spoken with Chandima about what they expected from him next season and his role in the team.
"We're not expecting miracles," he said. "We know he is a quality player, and we want him to work hard and enjoy his cricket.
"If he produces big scores, that is a bonus.
"He comes in with no expectations. He is walking into a pretty strong side and we want him to just play his role."
Chandima is the third player to join the Lions from the GDCA in recent years. Danza Hyatt and Madushanka Ekanayaka have both been key players in the club's two premierships. Ekanayaka is also a Sullivan Medalist winner in the GDCA.
The Lions beat Golden Point in the grand final, after going through the previous season undefeated.
"We want to invest time into the kids," he said.
"Our seconds were enormous this year even if the results don't show.
"We had about nine kids in there who are 20 and under and they all had their moments.
"We had a 17-year-old, Brodie Ward, in our premiership side.
"We will be competitive again and I'm hoping for development from the younger kids who are looking to make the next step."