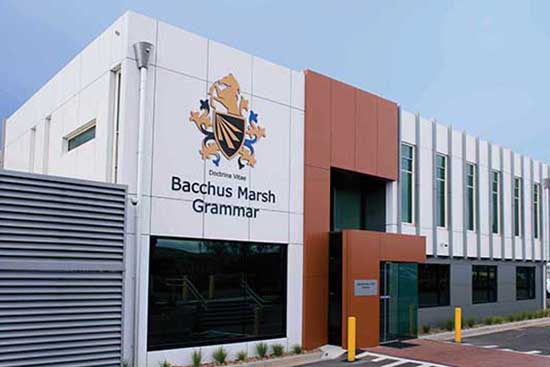 Benjamin Millar
Bacchus Marsh Grammar students have been ordered to stay home for the rest of the week after a teacher at the school tested positive for COVID-19.
The teacher is understood to have acquired the virus from a friend living in Ariele Apartments, the Maribyrnong apartment complex sent into lockdown on Tuesday after revelations COVID-19 positive removalists from NSW had spent about five hours at the site.
The school notified families on Wednesday afternoon that there had been a confirmed positive case of COVID-19 amongst the staff, forcing the immediate closure of Woodlea and Maddingley campuses.
"The school will be closed on Thursday 15 and Friday 16 July," the school stated in a message to parents.
If a longer period of isolation is required for staff, online learning will commence from Monday next Monday.
The teacher attended the school's staff day with other teachers on Monday, but was not in direct contact with students on either Tuesday or Wednesday.
Principal Andrew Neal said all staff who were at the Staff Day have been directed by the COVID-19 Public Health Division Department of Health to isolate and be tested.
"We are awaiting instruction from the Department on appropriate sanitation and cleaning of the school," he said.
"Given the need for testing of virtually all staff and the need for additional cleaning, there will be no classes at the Woodlea or Maddingley Campus on Thursday and Friday 15-16 July for all students."
Mr Neal said he would strongly advise that if any student does start to present with any of the recognised COVID symptoms they are tested as soon as possible as a matter of precaution.
"This is a fairly fluid situation and we will endeavour to keep parents informed of the situation as it develops as we have further information of any additional public health requirements."
The Department of Health also sent a message notifying students that they had been identified as attending school with someone who is a primary contact of a confirmed coronavirus (COVID-19) case.
"This exposure occurred on either July 13 or 14. The Department is currently investigating this case," it stated.
"In line with public health requirements, you must isolate in your home away from other household members until notified by the Department of Health.
"You are not required to present for testing unless you develop symptoms. We will contact you again when you are no longer required to quarantine."
The school shutdown comes after two Ballan locations were also listed as tier one exposure sites after being visited by a COVID-positive removalist team from NSW.
Anybody who visited the Mobil and McDonalds stores on the westbound side of the Western Freeway between 5pm and 7pm Thursday, July 8, has been ordered to get tested immediately and quarantine for 14 days from the exposure.
As of yesterday, the Department had identified 45 primary close contacts linked to the Ballan McDonalds and Mobil exposure sites.
The exposure sites include the bathroom and shower facilities at the Mobil service station.
Victoria's Covid commander Jeroen Weimar said the removalist crew may not have adequately followed strict restrictions placed on them as part of their permit to enter Victoria.