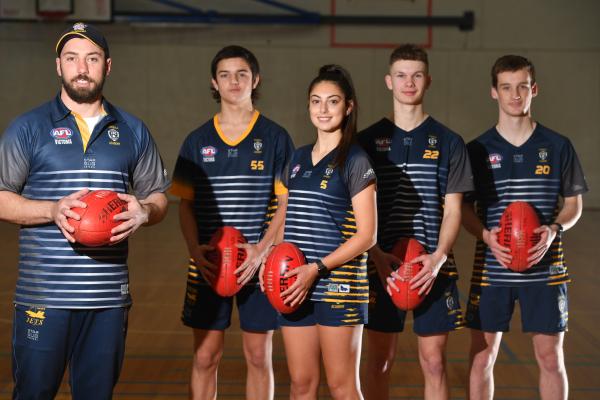 Ewen McRae
The football program at Lakeview Senior College has seen three players drafted in recent years, and they're looking for their next stars.
The program has been running at the school since 2007, giving students the chance for extra training and physical conditioning sessions that work around their VCE or VCAL studies.
With AFL players James Sicily, Will Hoskin-Elliot and recent draftee Tristan Xerri coming through the school, program coordinator Michael Pisani said it had been a long-term success for students.
"There's lots of access to strength and conditioning through the local Anytime Fitness, and we have coaches that come in to work with the players as well," Mr Pisani said.
"We've got an affiliation with the Western Jets as well, so it provides a great opportunity for players to access their program as well.
"It's all about helping players reach their full potential, whether that's AFL, Nab League, or their local clubs."
Now at North Melbourne, Mr Xerri was full of praise for the program and the help it gave him to reach his AFL goal.
"The opportunity to touch a football 3-4 times a week at school on top of training and playing outside of school really helped me develop and fine tune my skills, especially my kicking," he said.
"There was a little extra motivation in my classes through my time at Lakeview because I knew if I didn't hand in my assignments in time that I'd miss out on footy."
Anyone who may be interested can email michael.pisani@education.vic.gov.au throughout term 3.
Ewen McRae