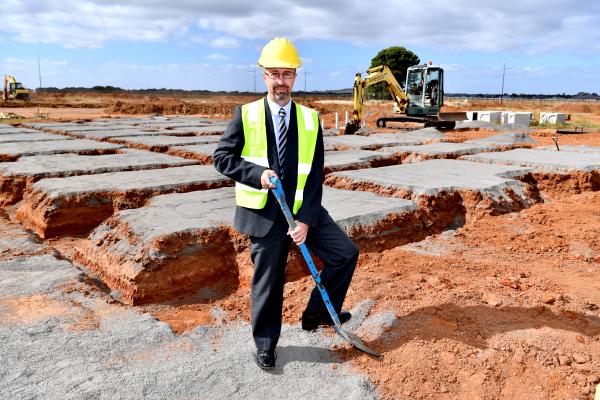 Benjamin Millar
Construction is under way on the newest school helping cater for Melton South's booming population growth.
St Lawrence of Brindisi – a new Catholic primary school opening in the Weir Views estate at the start of next year – will be led by Bill Hill, a principal with an extensive track record across schools in Australia and the United Kingdom.
Mr Hill identified building strong community partnerships as one of his most important jobs, reflecting his belief that active involvement of the community has a great impact on the culture and educational outcomes of a school.
"St Lawrence will be a place of welcome and nurture; a school where every face has a place and is valued," he said.
"Wellbeing will be a critical component in life of the school. When children are happy, engaged, when they are listened to and respected as unique individuals shaped as God intended, they are far more likely to enjoy school and experience success."
The opportunity to develop a school culture from ground up was a key attraction for Mr Hill taking on the role.
He said he will be looking for engaging and passionate teachers who will build nurturing relationships with children and their families.
Mr Hill recently visited the site where construction has begun on the school's $6 million first stage, featuring nine learning areas including a multi-purpose space for specialist visual arts or STEM learning and before and after school care.
Works are due for completion by mid-December.
The school, to be located on Waterway Boulevard, will be part of the Parish of St Anthony of Padua and will work closely with sister school St Anthony's Primary School.
Details: slmeltonsth.catholic.edu.au