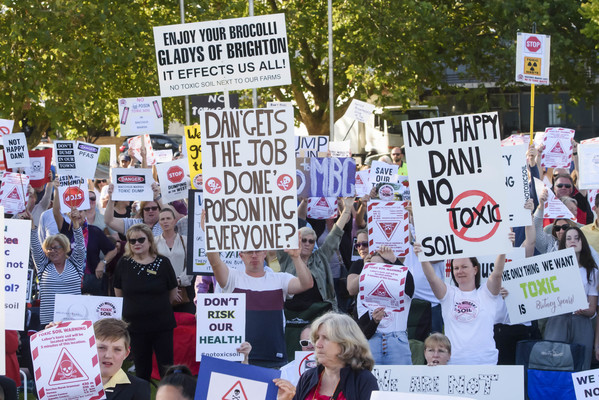 Benjamin Millar
Western suburbs councils have reacted angrily to the state government's approval for toxic West Gate Tunnel soil to be dumped in Bacchus Marsh and Ravenhall, with one council threatening legal action to stop the move.
State planning minister Richard Wynne has given the green light for Maddingley Brown Coal to receive and store contaminated soil from the $6.8 billion West Gate Tunnel Project in Bacchus Marsh and for Cleanaway to take the soil at its Ravenhill tip site.
Both sites have already been ticked off to receive the PFAS and asbestos riddled soil by the Environment Protection Authority.
The decision comes despite strong community campaigns against the proposals put forward for the two sites and a third site at Bulla, which is yet to be approved.
Moorabool Council – which has vehemently opposed the dumping in Bacchus Marsh – has flagged it could take legal action over the decision.
Council chief executive Derek Madden said he the council is not surprised but "extremely disappointed" with the decision.
"It's our view that the process for considering the application has been flawed as there has not been adequate consultation for a project of this nature, particularly with impacted Councils and the community," he said.
"The whole way through this, Council was left in the dark and effectively shut out of the planning decision process, as the Minister called the project in to make the decision.
"This means the decision was made without any decent consultation with our community, which is a slap in the face to our Bacchus Marsh residents."
Mr Madden said the council understands that Maddingley Brown Coal needs to submit a new Environment Management Plan (EMP) and local traffic management plan as part of the approval.
It is then up to Transurban to consider all approved locations and make the final contract decision as to where the soil will go.
City of Melton Mayor Cr Kathy Majdlik expressed serious concern and extreme disappointment over the approval of Cleanaway's Planning Scheme Amendment for Melbourne Regional Landfill in Ravenhall to accept the toxic soil.
"I'm absolutely shocked that the State Government thinks a proposal like this is appropriate.
We're talking about toxic soil and hundreds of truck movements every day in an area where families live and work," Cr Majdlik said.
"This approval has not taken into account community or council feedback and I'm deeply concerned and disappointed about the consequences of this decision."
Cr Majdlik said although a decision on where the West Gate Tunnel soil will go is yet to be made, this approval means Cleanaway can construct a soil management and reuse facility specifically to accept and process contaminated soil.
"It's a significant step in the process, we're talking about a permanent facility that would be able to accept contaminated soil projects indefinitely," she said.
"This is outrageous and our residents do not deserve this. Council advocated extremely hard to stop the Ravenhall tip expansion and now the site is being considered to be a dumping ground for toxic soil, it's absolutely appalling.
"The west is not a dumping ground for toxic waste and our residents deserve better."