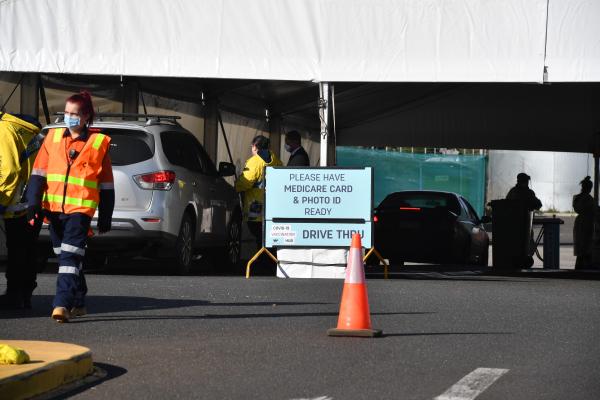 Benjamin Millar
A vaccination blitz is underway in Melton as new figures reveal the area has one of the lowest vaccination rates in Australia.
New data from the federal Department of Health reveals that as of August 27 less than half of Melton's population aged 15 and over had received their first dose, while fewer than one in four were double dosed.
Premier Daniel Andrews last week announced that additional cubicles are being introduced at the Melton Drive Through Clinic to double its capacity and that opening hours across sites will also be extended.
West Metro COVID-19 Vaccination Program project director Lisa Smith said a lot of work has gone into finding additional workers to provide the extra vaccination doses being made available.
"We're really committed to pushing it really hard to get through the bulk of the population now that the vaccine supply has come through," she said.
Ms Smith said a number of factors are behind the low vaccination rates in Melton to date.
"It's multifactorial – we know there's not the same saturation of GP services in the west, that to a certain extent reduces the opportunities," she said.
"We have been really strategic in the placement of the big vax hubs and are trying to think of innovative ways to get to people, while finding that balance of safe operating and being able to maintain that social distancing."
Ms Smith said more work is also going into outreach programs to reach people in the community who might otherwise fall through the cracks.
While there is still much work left to do, she is heartened to have seen a shift in hesitancy.
"There is clearer messaging with the vaccine being our way out of this," she said.
Melton MP Steve McGhie has added his voice to the call for people to get their COVID-19 vaccinations in Melton.
"We need to roll up our sleeves and get vaccinated. Vaccination is the only way that we can open up from lockdowns, lift restrictions and return to a normal lifestyle," he said.
"I've received my two AstraZeneca doses I encourage everyone who is eligible to make a booking and get their vaccination."
Book via www.coronavirus.vic.gov.au/vaccine or call the Coronavirus Hotline on 1800 675 398.