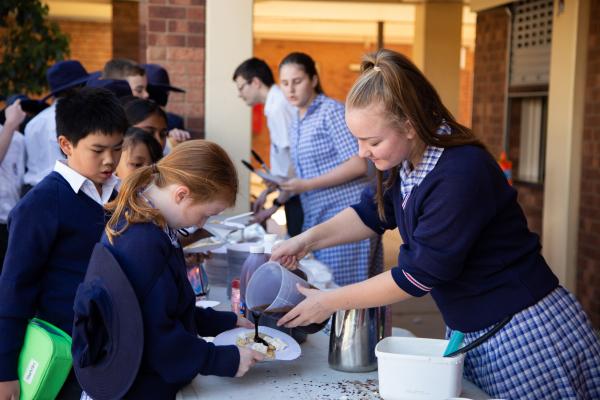 Even though visiting their friends at Rehoboth Children's Home in the Philippines is off the agenda this year, students at Heathdale Christian College wanted to make sure the Filipino children knew they weren't forgotten.
From their homes, a group of students have pulled together and hatched a plan to help out Rehoboth. They called it 'Standing Up for Little Lives'," says Melton college principal Yvonne Harvey.
"Rehoboth has been close to the hearts of Heathdale students for more than a decade now. Students regularly lead initiatives to help fund Rehoboth's mission of keeping disadvantaged children off the streets," Ms Harvey explains.
"This year, their campaign will lead up to the final day of term 3 when the students who are taking part will give up their furniture and 'stand up' to finish the term's remote learning program.
"During the day, the student-managed Little Lives Radio will be streamed to Heathdale students, featuring music and commentary from the team, as well as footage from past trips to Rehoboth, quizzes, and interviews with teachers."
The students asked the wider Heathdale community to dig deep and get behind the cause, setting a goal of $4000 to be raised over the course of the event.
However, in just a few days after the launch – which involved the students taking to social media and play videos in virtual classrooms – the $4000 goal had already been passed. They're now aiming for $8000.
College Vice Captain Alex Richardson says past events, planned by school captains and vice captains, have included some terrific fundraisers, such as selling products that were handmade from plastic waste by their friends in Payatas.
"This year," Alex says, "we had to stretch ourselves to figure out not only what type of fundraiser we could pull off in a remote context, but how we were going to get the word out to students and the wider community.
"We worked it all out and succeeded in spades, and have even moved from cash donations to online at www.littlelives.raisely.com – all contributions welcome!"
Worth noting
• 
Heathdale Christian College's Melton campus continues its expansion into secondary school with the addition of year 8 in 2021.
• 
A co-educational independent Christian college, Heathdale desires students to become lifelong learners. A NAPLAN top-3 ranking in the west across all age groups demonstrates Heathdale's strong academic programs.
• 
However, the college's programs and partnership with parents ensure the focus is on students discovering their God-given potential, whatever that may be.
Heathdale Christian College, 
102-112 Centenary Avenue, Melton. Inquiries: 8746 3100 or 
visit www.heathdale.vic.edu.au