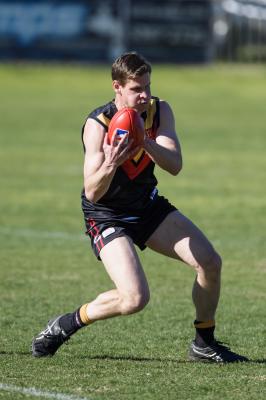 Benjamin Millar
Stranded on 299 games by the latest snap lockdown caused by the COVID-19 pandemic, Bacchus Marsh defender Daniel Velden is philosophical about the delayed milestone.
Not only will the rescheduled round 11 clash at Maddingley Park against the in-form Melton that was meant to have been played on Saturday be a personal celebration of his 300th senior game for the Cobras, it will be a sign that the state is back on track after the latest scare.
"In the end it's all about perspective," he said.
"Footy is an absolute joy, but there's a lot more important things in life and a lot more people doing it tough.
"If we do have that opportunity to get back out there it means we're probably doing okay again."
Velden grew up in Bacchus Marsh and will soon be moving back to his hometown after a decade living in nearby Eynesbury.
A keen basketballer in his teens, he first strapped on the footy boots at the urging of some mates when he was about 16.
Velden hit the under-18s and then the seniors team around 2002 and 20 years later shows no signs of giving up the game that has delivered so much reward.
"It's just been the club, it's a pretty amazing place to be – I've had plenty of opportunities to move elsewhere but this is where I want to be," he said.
"They brought me up, they turned me into the person I am today, along with my family and friends, and that's why I'm still out there playing at 36."
The Cobras stalwart said the 300-game milestone has been a long time coming, particularly given the fallow early years of his involvement with the club.
"In the early days we weren't very successful so without the finals the seasons were only 14 or 15 games," he said.
"I think I played 241 games before I played a final, it was getting to the point I was wondering if it was ever going to happen."
With plenty of hard work and persistence those fortunes finally turned, leading Bacchus Marsh to a coveted premiership in 2016 – the same year the Western Bulldogs ended their long drought.
"It was just an amazing time," Velden said.
"That's the ultimate goal, every team wants to win one but only one can.
We ended up winning it with about five recruits and the rest were locals that came through the juniors, so we were just ready for it."
Bacchus Marsh remain poised within striking distance of another finals appearance in 2021, giving Velden hope that another Cobras flag could still be in reach.
"The competition at this stage is super open," he said.
"Every year you've got to time your run towards the finals and try to remain uninjured, being so close this year is the next level of that."