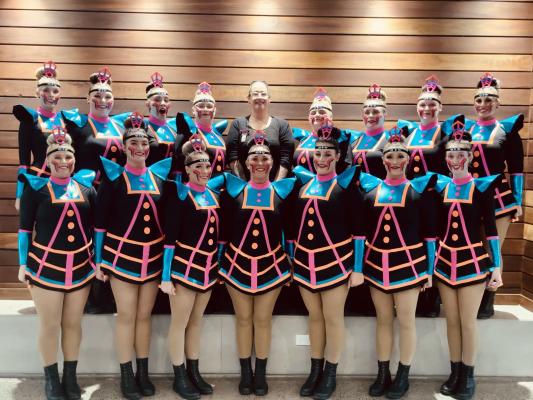 Benjamin Millar
The Electrik DrillDance club has marched its way to a swag of awards at the 2021 Australian DrillDance championships.
Held on the Gold Coast in Queensland recently, the national championships brought together the nation's leading DrillDance competitors battling to take out a number of titles.
Teams from the Bacchus Marsh-based club finished with a number of second places, including Electrik Eklipse in the Junior Basic Drill and Junior Thematic Dance and Electrikaires in the Senior Thematic Drill.
Electrik Eklipse backed up with a third place in the Junior Technical Drill and Electrikaires rounded out their competition with a third place in the Senior Thematic Dance and fifth place in the Senior Exhibition Drill.
Head coach Billie Harrip said DrillDance has been rebranded from the old sport of marching girls.
"They rebranded quite a few years back now," she said.
"It's a combination of dance routines set to marching routines and also themed marching routines."
Ms Harrip said she began her involvement in the sport at the age of 10 and has been hooked ever since.
"I've been doing it for 25 years now, I really like that the sport is really inclusive of everyone – you don't need to have any experience to start doing it and you get to wear really nice costumes and make friendships that last forever," she said.
"Anyone can join, you don't need any expertise or to be a particular body type or fitness level, it's really a sport everyone can do."
The Electrik DrillDance club trains weekly in Bacchus Marsh and competes in four competitions within Victoria each year plus an annual state championship.
Every April the club travels to the host state and competes with teams from all around the country.
Many of the club members live in an around Bacchus Marsh and Melton, but some come from as far afield as Bendigo, Geelong and Point Cook.
The club has five age groups and participants range in age from four through to a woman in her 70s.
"There is an under-8, and under-13, an under-18, seniors and masters," Ms Harrip said.
"At the moment we really need the younger age group as we're getting a lot of the younger girls into the senior team when they get to that point where they are ready to feed through into that age group."
Ms Harrip said she was thrilled by the strong showing at the recent national titles and proud of all those who took part.
"It's a pretty big operation when you think about it, to get our club interstate, but when you see the finished product it makes the hours and hours of work all worth it," she said.
"For me as a coach it's about seeing them achieve their personal goals, that's the most rewarding part for me."
Further details: Electrik DrillDance on Facebook.