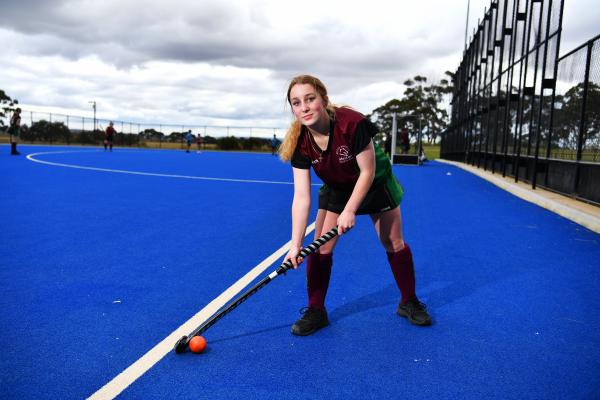 Benjamin Millar
With hockey coursing strongly through her blood, Grace Downes is quickly making her mark as a rising star of the sport.
The Melton Hockey Club senior team player has been selected to compete in the Junior State Championships, named in the under-15 Girls' North West Tigers team hoping to claw its way to the top when the tournament gets underway in in Bendigo in early July.
Downes first began playing with the Mustangs in 2014, following on the heels of her family and quickly making her mark as a player to watch.
Mustangs internal development junior co-ordinator Kellie McLaren said Downes has been a powerhouse since she first began playing in the under-10s, displaying a "never give up attitude just like her mum".
"It is no surprise Grace has once again been selected, her determination and skill on the field is second to none," she said.
Downes, who usually plays at centre forward or inner, has chalked up more than 50 goals in just over 90 matches for the Mustangs.
She made her senior team debut in 2019 and hasn't looked back, relishing the experience despite her young age.
Downes said she is excited to have been selected to compete at the state championships and to be playing against the best players from across Victoria.
"Kellie mentioned it and she said it would be a great experience for me to try out," she said.
"I'll be able to work on my skills a lot more and work on the things that need improvement."
Downes' love for hockey goes back as far as she can remember, inspired by the passion her whole family has for the game.
"Hockey is like a family sport for people in my family – my aunt and my mum and my sister and my nan all played hockey when they were young," she said.
"As soon as they could they got me involved, I was about six, and I love it. I just love the fact that I can run a lot during the game, I love how I can do different things with the ball every time I get it."
Downes is no stranger to the championships experience, having been selected in the under-13 side that competed in 2019.
The COVID-19 pandemic wiped out the bulk of 2020, leaving Downes and her teammates to find other ways to keep their skills finely honed.
"When we were allowed a little bit of time to go outside for exercise we always used to go out and play hockey," she said.
"And even in my lounge room I would keep up some practice."