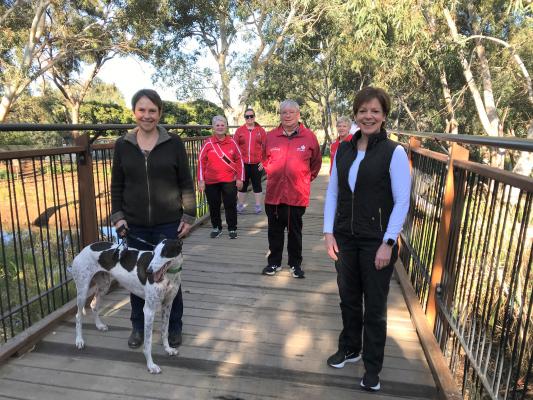 Ewen McRae
With local walking groups able to start up activities again, a Melton group had some special guests at its event recently.
One June 20, the Heart Foundation Melton Library Walkers welcomed Heart Foundation chief executive Kellie-Ann Jolly, and state minister Jaala Pulford as they re-launched their 2020 walking activities.
While social distancing was still in place, Ms Jolly said it was important for groups like this to get active again and promote a healthy and sociable lifestyle.
"Walking is a free tonic for good heart health," Ms Jolly said.
"Being physically active at least 30 minutes on most days helps reduce risks like high blood pressure, cholesterol or weight issues that can lead to heart disease, Australia's single biggest killer.
"We have worked tirelessly to encourage people off the couch and to get moving through Heart Foundation Walking, Australia's largest walking community, since it was first established in 1995."
Ms Jolly said the weeks of lockdown put the need for better health into sharp focus, and encouraged local governments to provide more open spaces for recreation and physical activity.
"For Melton residents and many Victorians, living in lockdown has sharply highlighted the importance of safe, connected streets and open green spaces that encourage and support healthy activity," she said.
"This pandemic presents a unique opportunity to improve liveability across local communities like Melton.
"Now more than ever, building walking infrastructure that is safe, pedestrian-friendly and supports physical distancing is crucial."
Ewen McRae