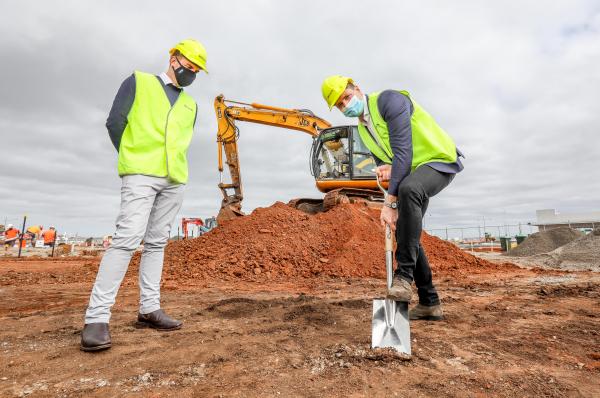 Ewen McRae
A milestone store for McDonald's is coming to Melton South.
McDonald's Australia broke ground on the site of its 1000th store in the country – on Exford Road – and it's set to be a flagship for sustainability and a guide for future stores.
The new restaurant will incorporate recycled content in the building, infrastructure and furnishings. It will also use 100 per cent renewable energy, including solar energy sourced from panels installed on the building roof.
As part of an increased emphasis on reducing plastic use and waste, this store will also use fibre-based cutlery, stirrers and straws.
Senior director of development for McDonald's Australia, Josh Bannister, said it was exciting to be on the verge of such a milestone for the chain.
He hoped the new store would be a leader in the industry.
"It's a privilege to be breaking ground on our 1000th restaurant and to be able to continue to provide new training and employment opportunities for the local communities in which we operate," Mr Bannister said.
"As our first sustainability flagship, the Melton South restaurant will play a vital role in allowing us to continue to test, evaluate and implement industry-leading sustainable innovations.
"McDonald's Australia has always been committed to using our scale for good to positively improve the way we work and to support our customers and community."
McDonald's expects to engage more than 100 tradespeople throughout the various stages of the build, with the completed restaurant to provide new employment opportunities for about 100 people from the Melton area, once it opens later in the year.
Ewen McRae