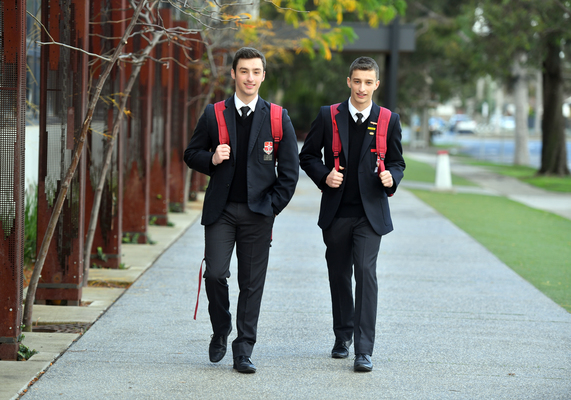 Tate Papworth
Adrian Mois never thought he'd be excited to be walking into school, but as he and his twin brother Benjamin walked through the gates of Caroline Chisholm Catholic College this morning, that was the overwhelming emotion.
Since the beginning of term two, most children across the state have been learning remotely in a bid to slow the spread of COVID-19.
But from today, all prep, grade one and grade two pupils, specialist school students, as well as VCE and VCAL students will return to on-site learning at government schools.
Students from the year 3 to 10 cohort will continue to learn remotely until Tuesday, June 9.
Adrian said the prospect of returning to the classroom was something he's been looking forward to.
"I've never really said this, but I'm excited," he said.
"It's been eight weeks so it'll be great to see everyone and talk to my friends I haven't seen in a couple of months."
While year 12 is stressful at the best of times, Adrian said the transition to remote learning was a relatively smooth one.
"Luckily for me I'm doing VCAL so there's no stress with exams, but it's been different.
"It wasn't bad going onto online classrooms, but everyone misses the physical classroom…the environment, the people, everything."