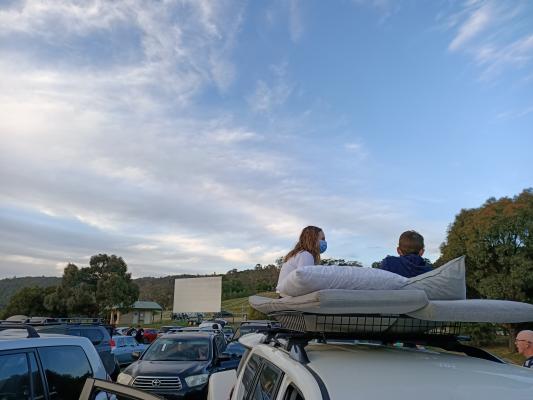 Benjamin Millar
The Greendale community has come together for a night under the stars as part of the area's first drive-in movie night in almost a decade.
The Friday night screening of family movie 'The Croods' at Egans Reserve was a sell-out and the weather gods were smiling, delivering the organisers a balmy night to remember.
"A Starry Night" – the brainchild of Greendale filmmaker Kristin Sargent – was the culmination of months of hard work and dedication by Ms Sargent and co-organiser Sarah Duncanson.
Ms Sargent said the event was intended to bring together the Greendale community and could be the first of many such nights.
"I'm only very new to Greendale, we're coming up to two years in February next year," she said.
"My partner and I moved here from St Kilda, we're both filmmakers and we did the whole tree change to start a family."
Ms Sargent said the first year had been slow in terms of meeting people and getting to know the community.
But all that changed following a CFA barbecue where she met a former member of the defunct social club and found out the area used to have a number of social events.
"My brain just went on fire and I thought this is what I need to do."
When COVID-19 struck, Ms Sargent's film work quickly dried up and she found herself with the free time to make it happen.
The drive-in idea was born, the next step was making it a reality.
"I got together with another mum here in Greendale who said she would help out," she said.
"I've met some really great people and we're taking over the social club now as well."
Plans are underway to hold further drive-in nights at least two or three times per year, while other social gatherings are likely every month or so.
"Whatever we do we will raise a bit of money for a community organisation like CFA or Landcare," Ms Sargent said.
Benjamin Millar