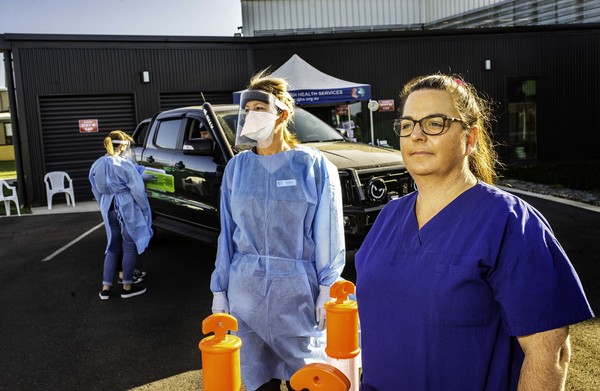 Ewen McRae
A drive-thru coronavirus clinic in Melton West is helping to ease the strain on local health services.
The fever clinic opened on March 17 and is running from 9am until 9pm, but is only testing people who meet the set criteria from the Department of Health and Human Services.
Djerriwarrh Health chief executive Belinda Scott said more than 350 people were tested in the first two days the clinic was open.
"We've had really great support from our community on this," Ms Scott said.
"It's enabled us to keep our main health services running as normal, while still looking after people who may be worried and meet the criteria to be tested.
"What happens is, you follow the signs at the site, stay in your car and a nurse will come out and screen you in your car and ask you the key questions. If you meet that criteria we take you into an isolation room for your test before sending you home to isolation until the results come back."
To qualify for swab testing you have to have travelled overseas in the past 14 days or had close contact with a confirmed COVID-19 case, and also display symptoms of the virus.
A call centre has also been set up for those that are unable to drive to the centre, or are concerned.
Ms Scott said the majority of people who have presented at the clinic have not met the requirements for testing, but that the community was thankful.
"The community are anxious on this, especially if they are unwell, but I've got to say they've been incredibly grateful to access a service like this in Melton," she said.
"This [COVID-19] is likely to overwhelm health services in the coming weeks, so we're doing our part to manage our part of the system."
A similar clinic has also opened in Bacchus Marsh.
Details: Fever Clinic call centre – 5367 2000; Melton Clinic – 195-209 Barries Road; Bacchus Marsh Clinic – Clarinda Street Bacchus Marsh (next to Urgent Care at the Hospital)
Ewen McRae