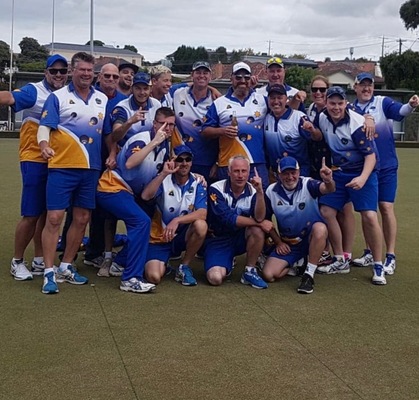 Tara Murray
The move to the Bowls Victoria pennant competition has proved the right one for Bacchus Marsh, as it claimed the division 2, section 1 premiership.
Having won the Central Highlands Bowls top grade last season, Bacchus Marsh decided to make the move to the metro competition.
While there was talk whether they were in the right division, Bacchus Marsh let their bowls do the talking.
On Sunday, they claimed a convincing win against Port Melbourne in the grand final.
Bacchus Marsh president and player Phil Minniti said it was good to have claimed the title.
"We had a great win over Port Melbourne," he said. "By 20 shots overall.
"Bowls Victoria did the right thing for us in putting us in the division they did. Other clubs around us thought we would struggle.
"They didn't understand our heart or depth. We showed what we could do and have now won two grand finals in a row in two different competitions."
Bacchus Marsh's weekend started on Saturday, with a semi final win against Deer Park (2).
Having lost to them in the final round, Bacchus Marsh turned the tables, winning 102-56 with three of the four rinks having wins.
They then faced Port Melbourne in the grand final the following day, where they won 83-63. Like the day before, they won three of the four rinks.
Minniti said they were in control all day.
"Dan Willis got off to a flyer and we controlled it from there," he said.
"Port's loudest and best player was quiet all day as Troy Williams' rink did a brilliant job."
Minniti said the win was really special for some former players who returned to the club this year, having missed out on last year's premiership.
The win seals promotion into division 1 for next season. They still play next week as they look to take out the overall division 2 title.
"It's a whole new challenge," Minniti said.
"We keep proving people wrong and hopefully we can keep it going next year."
Bacchus Marsh is looking to try and bring another one or two sides across to the pennant competition, pending the approval of Bowls Victoria.
Meanwhile, in the section two semi finals, Melton was knocked out by Flemington-Kensington.
Melton failed to win a rink in the 102-63 loss.