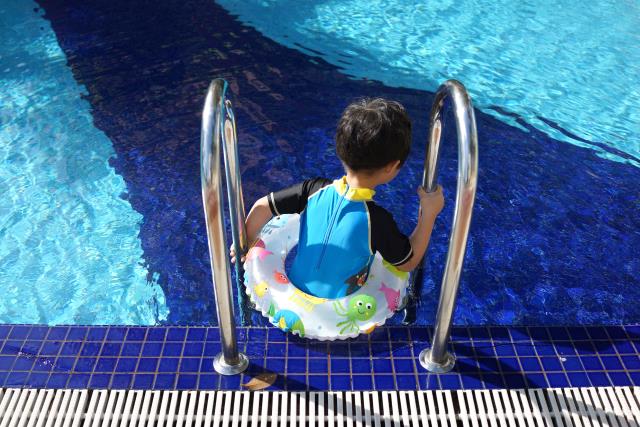 A typical Aussie summer is largely spent at the beach, dipping in and out of the surf, or cooling off in a backyard or public swimming pool.
As a nation surrounded by open water, being in and around water is one of our favourite pastimes. It's therefore important for both adults and children have water safety skills.
Drowning is still the leading cause of accidental death of children aged under five years, according to the Royal Life Saving National Drowning Report 2018.
You can start regular, formal swimming lessons with babies as young as four months old. It is a great time to start water familiarisation and a great opportunity for parents and carers to connect with their babies.
Research suggests that early swimming lessons can lead to better physical, cognitive and linguistic development in children. A study conducted in 2012 by Griffith University ran for three years and surveyed almost 7000 parents with children under five. It examined whether participation in early swimming lessons impacted subsequent milestones in child development, with results showing a clear connection between children who participated in early swimming lessons developing a range of physical skills and meeting many developmental milestones earlier than their peers.
For parents searching for the right swim school, it's important to ask questions about the programs and wherever possible, do a trial lesson. Swim schools that teach survival skills of treading water, safety circles and encouraging kids to build distance are a great place to start.
Some other top tips for a Safer Summer include;
* Keep watch of your children: A lapse in supervision is the number one contributing factor in toddler drowning deaths. Active supervision is essential – be prepared, be close (within arm's reach), and give all of your attention, all of the time. Don't get distracted on your phone, answering the door or preparing food.
* Check the fence: Ensure all pools have fences that comply with government regulations – this includes any neighboring pools. Self-closing and self-latching pool gates should be used and checked regularly. A simple way of testing the gate is to see if it swings freely to close and latch from any open position.
* Don't give them a boost: Never leave chairs, bins, pot plants, eskies or outdoor furniture near pool areas. Children often use these items to boost themselves up to open a gate or climb a fence.
*Keep it empty: Regularly empty any containers such as eskies, buckets, wading pools or anything that can hold rainwater and store these away where they cannot be filled up with water following rainfall.
* Learn CPR and First Aid: Prevention is the fundamental way to avoid drowning, however, as a last line of defence, CPR is a vital life skill that can help save a life.