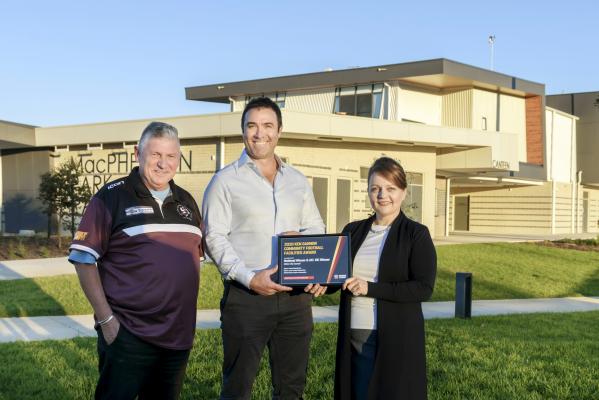 Benjamin Millar
The $13.3 million redevelopment of MacPherson Park in Harkness into a state-of-the-art sporting ground has earned joint honours in the AFL's prestigious National Project of the Year awards.
MacPherson Park, home to a number of sporting clubs including Melton Football Netball Club and Melton Cricket Club, features a new multipurpose pavilion, synthetic multipurpose oval, umpire rooms and female-friendly change rooms.
The upgrades were funded with $11.2 million from Melton council, $2 million from the state government and $100,000 from the AFL.
The ground shared the headline award in the AFL's 2020 Ken Gannon Community Football Facilities Awards with a redevelopment in Queensland's Moreton Bay.
AFL game development general manager Sam Graham said the annual awards recognise best practise in community football facility development across Australia, along with the people, clubs and other stakeholders driving the best projects.
"With participation growth, and the ongoing surge in the popularity of football for women and girls, the planning and development of fit-for-purpose infrastructure plays a vital role in ensuring the game can continue to cater for everyone who wants to be involved," he said.
"We need significant support from all levels of government to make projects like these happen, and both the Moreton Bay and Melton projects are shining examples of what can be achieved when stakeholders across government, local communities and the AFL come together for the benefit of people and communities who will use these magnificent facilities."
AFL Victoria head Brad Scott, said the collaborative approach to delivering the MacPherson Park project benefits the local community and helps ensure the game can continue to grow.
"MacPherson Park will play a critical role in helping the clubs, players and umpires, including Melton Football Netball Club, Riddell District Umpires Association with the Melton Junior Football Netball Club, to prosper."
The upgrade has helped boost participation numbers from 181 footballers in 2019 to an anticipated 630 footballer this year.
Melton Football Netball Club president Brian McNabb praised the redevelopment and welcomed the award.
"The Melton Football Netball Club are thrilled to be part of the MacPherson Park redevelopment, thank the City of Melton for the improvements made to the complex and congratulate them on the award received from the AFL," he said.
Melton mayor Kathy Majdlik said MacPherson Park has come a long way since first opening in the 1970s.
"Redeveloping MacPherson Park was a high priority for both the community and Council," she said.
"Residents, players and spectators now have access to a state-of-the-art sporting facility that is supporting the growth of AFL and netball in our city."