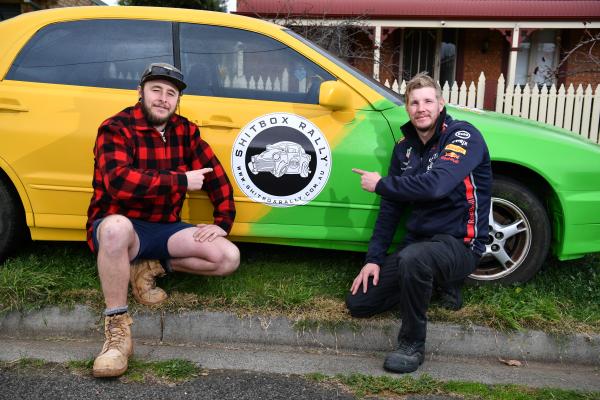 Ewen McRae
Liam Usher and Aaron Lewis have done plenty of trips together, but nothing quite like what they will face next year.
The Bacchus Marsh pair will be taking part in the Cancer Council fundraiser 'The Shitbox Rally', which will involve driving a rundown Mitsubishi Magna from Alice Springs to Darwin and then to the Gold Coast, all to raise money for a good cause.
They were set to undertake the trek in May before the COVID-19 pandemic set in, and the rally was pushed back to 2021.
"We've been mates since high school, and we've been talking about doing something like this for four or five years now," Mr Usher said.
"It just looked like a good adventure, and obviously a good cause, so we were pretty excited to get accepted into it.
"We're both big fans of the old Tom Cruise film 'Days of Thunder', used to watch it after school a lot, so we've painted the car like the one from that. I think the whole rally will be a lot of fun, while also a challenge at the same time."
The pair initially had to raise $5000 for the Cancer Council in order to participate in the rally, but with the rally postponed they now have to raise $8000.
"Most teams fundraise an average of $10,000, so it would be great to get up to that," Mr Usher said.
"Once some of the restrictions ease we're hoping to run some events, hit up local businesses and friends, and get as much as we can for this great cause.
"Hopefully we can make this an annual thing for me and Aaron."
Donate to the team at autumn2020.shitboxrally.com.au/pig-and-froffie.
Ewen McRae