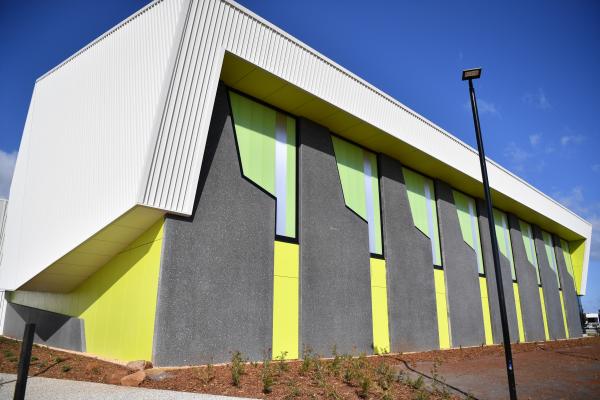 Benjamin Millar
The City of Melton is booming.
A rapidly growing population, significant business investment and a fast-moving infrastructure pipeline have made the area one of Victoria's fastest growing communities over the past 10 years.
Melton mayor Cr Kathy Majdlik said the council is doing everything it can to ensure the city provides a strong economy and fulfilling lifestyle for everyone now and in the future.
"We've made our largest ever commitment to capital works in the current council budget with $154 million to be invested in community facilities, roads, and more," she said.
With the city's population set to reach half a million people in the next 30 years, the council is working hard to invest on what the community and businesses need and to attract further partnerships.
Projects already underway and in the pipeline include:
*Cobblebank Stadium construction ($31 million, expected completion late 2021)
*Diggers Rest Recreation Reserve pavilion ($11.8 million, expected completion late 2022)
*MacPherson Park Recreation Reserve redevelopment ($6.4 million, expected completion late 2021)
*Mt Atkinson Community Hub ($8.5 million, expected completion in 2023)
*Brookside pavilion redevelopment ($1.5 million, expected completion October 2021)
*Taylors Hill Youth and Community Centre extension ($2.1 million, expected completion August 2022)
Cr Kathy Majdlik said projects like these have immense benefits for residents and she's excited that the council can drive this sort of development in the community.
"I'm also really pleased to see the state government catering to our growing young population with school developments including Strathtulloh Primary School and Deanside Primary School, and community centres in Mt Atkinson and Deanside," she said.
"I'm looking forward to continuing to work with the state government to deliver quality infrastructure that keeps pace with our city's rapid growth."
Cr Kathy Majdlik said the key to the city's future is long-term job creation.
"Major projects like a new freight precinct, better road and rail connections and fully funding the Melton Hospital will make a huge difference," she said.
Melton is becoming well-recognised by globally and nationally significant companies as a place to invest and create jobs.
Major companies Amazon, Hello Fresh, and Scalzo Foods have all recently make the area's industrial precincts their home.
"To have leading companies like these invest in our city is testament to the competitive advantages that our prime location and highly skilled workforce has to offer," Cr Kathy Majdlik said.
"I'm pleased that these investments in the local area will mean more local families can find quality employment close to home."
About 300 new jobs have been created at the new Amazon facility, more than doubling Amazon's operational footprint in Victoria.
The Ravenhall fulfilment centre is 37,000 square metres in size, almost double the size of the Melbourne Cricket Ground and able to house up to six million items.
Amazon Australia director of operations Craig Fuller said the company is proud to be creating hundreds of new employment opportunities for Melburnians at a time they are needed most.
About 350 jobs were created when HelloFresh recently opened Australian largest meal kit packing facility in Ravenhall.
Nicknamed the Tuckerbox, The 25,500 square-metre chilled production and distribution centre is the largest of the three HelloFresh warehouses across the country.
HelloFresh Australia chief executive Tom Rutledge said the size, situation, and sophistication of the warehouse provides "a tremendous platform" for the company to realise its objectives over coming years.
"We are pleased to be creating new jobs in the local area and expanding on the partnerships we hold with many local suppliers to provide fresh and high quality ingredients to our customers," he said.
Japanese tool giant Makita is just one of the major companies to secure a site at the new $2 billion Melbourne Business Park in Truganina, set to become one of the largest logistics precincts in Victoria.
Stockland and joint venture partner Mt Atkinson Holdings are launching the first 95-hectare stage of the 260-hectare logistics precinct, eventually expected to include about one million square metres of warehouse space – the equivalent of 50 Melbourne Cricket Grounds.
Stockland workplace and logistics general manager Tony D'Addona said there is already strong interest from businesses seizing on the opportunity to establish their industrial footprint in Melbourne's western growth corridor.
He said that 21 businesses and investors have now committed to purchase lots, attracted to the precinct's strategic location on Hopkins Road and proximity to significant planned future infrastructure.
"Melbourne Business Park will provide employment to thousands of Victorians and, with early works now started, the project will be a significant contributor to Victoria's employment and economic growth as we recover from COVID-19."
Melbourne Business Park is positioned to integrate with Stockland's nearby masterplanned Mt Atkinson community.
The area is flagged for significant freight and logistics infrastructure investment and is close to the planned future Outer Metropolitan Ring Road (OMR) and Western Interstate Freight Terminal (WIFT).
The nearby Mt Atkinson Active Open Space Precinct will see the delivery of sports fields, a pavilion for community teams, a playground and a share path network within the emerging community at Truganina, which will eventually become home to more than 4400 families.