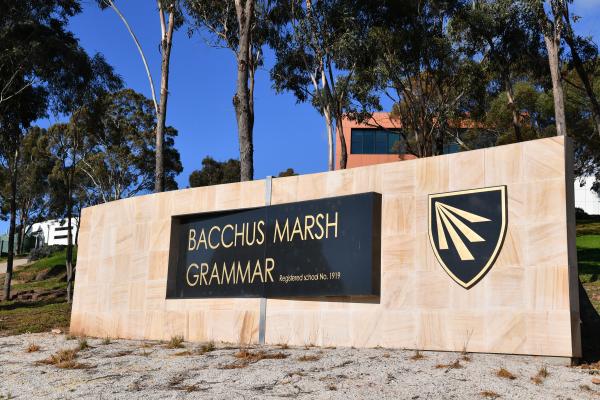 Benjamin Millar
Benjamin Millar
A COVID-19 outbreak at Bacchus Marsh Grammar school has triggered an urgent testing blitz and forced more than 2300 students into isolation.
Pop-up testing sites have been established at the Bacchus Marsh and Ballan railway station carparks and the Moorabool community has been on high alert since news broke of the growing cluster, sparked by an asymptomatic COVID-19 positive teacher attending last Monday's staff day.
Although the teacher had no contact with students, fellow teachers became infected with the highly infectious Delta variant and then mixed with students on the Tuesday and Wednesday, forcing the immediate closure of the school's Maddingley and Woodlea campuses.
The outbreak had grown by the weekend to include seven staff and two students.
The first teacher to test positive is understood to have acquired the virus from a friend living in Ariele Apartments, the Maribyrnong apartment complex sent into lockdown last Tuesday after COVID-19 positive removalists from NSW spent about five hours at the site.
The virus has also spread to the man's family, including a nine-year-old boy who attended Barwon Heads Primary School while infectious.
Bacchus Marsh Grammar staff who attended on the Monday were placed in isolation and the affected campus was closed for cleaning and contact tracing.
The Department of Health has classified everyone who was present at the Maddingley campus of the school on July 13 and 14 as a close contact, meaning they will need to get tested and quarantine for 14 days from their last contact at the school.
Household members will also need to isolate for the 14 days if they remain in the same house.
Woodlea campus students are also required to remain isolated, however their household members have been told they no longer need to do so.
Bacchus Marsh Grammar school principal Andrew Neal wrote to families noting that it was a "difficult and anxious time" for everyone in the community.
"Given the nature of the outbreak the whole of the Maddingley campus has been designated a tier one site."
The school shutdown comes after two Ballan locations were also listed as tier one exposure sites after being visited by the COVID-positive removalist team from NSW.
Anybody who visited the Mobil and McDonald's stores on the westbound side of the Western Freeway between 5pm and 7pm on Thursday, July 8, has been ordered to get tested immediately and quarantine for 14 days from the exposure.
The Bacchus Marsh College bus interchange on Grant Street has also been listed as a tier one exposure site for 8.21am to 8.41am last Wednesday, along with a number of school bus trips now listed on the Department of Health's website.
Victoria remains under state-wide lockdown as authorities race to deal with the latest breakout, which had grown to 81 active cases by Monday.