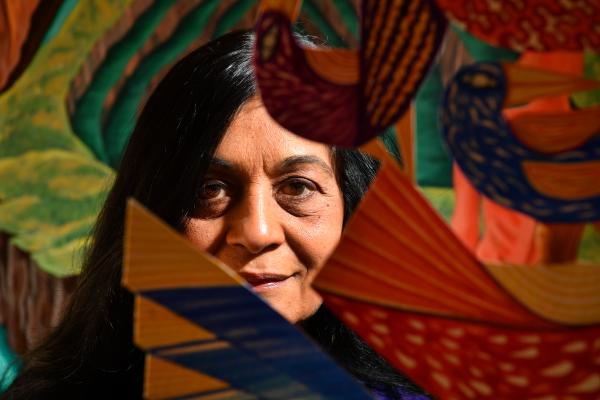 Benjamin Millar
Artists reeling from the impact of the COVID-19 pandemic are banding together in a bid to share their journey through difficult times.
Bacchus Marsh visual artist Anuradha Patel was in the middle of an artist residency at a local school when the latest lockdowns hit, forcing students into extended remote learning for the second year in a row.
"It has been a very difficult time," she said.
"I'm based in a school in Truganina, but because of the situation with COVID we have had very little time together, so it's been quite a frustrating process."
Patel began her life in India before moving with her family to Africa and then England, before relocating to the Moorabool region about 15 years ago.
As well as her own personal projects, she has spent much of her artistic career working in education and directly with communities.
"I enjoy working in the community in different contexts, especially working with children who may want to take on the arts," she said.
"The school at Truganina is very diverse and new, so there are a lot of new communities finding their feet, lots of different languages and cultural experiences – so it's sort of partly my own journey as well."
Extended periods of lockdown have made it increasingly difficult to work with others, but Patel has turned to her art to help make sense of the situation and cope with the impacts.
"My work has been my strength in a way, it's my thing I've held on to – it's seen me through many ups and downs," she said.
"The practice has helped me to stay focused and deal with the long periods of isolation and the unknowns.
"I'm making journals, so it's not great big artworks, it's day to day experiences, it also addresses some of the emotional upheavals going on everywhere, the situation everyone is in, so I think a lot of my work is subconsciously exploring that."
Patel has also joined the ArtsACTION program, supported by Moorabool and Melton councils and facilitated by Pop Up Art, a division of not-for-profit Jumpleads.
The program offers a Zoom workshops covering topics such as working together effectively and digital communities, as well as access to a growing supportive network.
Details: popupart.com.au/artsaction
Benjamin Millar